1956 Porsche 356 T1 'A' Coupe LHD
We are proud to offer for sale on behalf of our customer this mechanically sound outlaw 356 T1 'A'.
We imported this car and outlawed it for a very good customer a while back. It was a Black plate Californian car that came out of south San Francisco… never welded as far as we can see!
It's what we would call a survivor… it was clearly used by a student as it still has a university parking sticker from 1977 on the rear nudge bar… which is seriously cool!!
Original colour is graphite metallic and this is still the dash colour.
We went through the car and restored it mechanically front to back.
It's on real Porsche 356 'C' brakes front and back.
Engine is out to 1720cc and has a bit of a wild cam. The engine was rebuilt new (never ran) when we got the car, you could see assembly lube on the cam which wasn't broken in.
The wheels aren't everybody's cup of tea but it's on 5×130 stud pattern so Fuchs or any other 911 wheel will fit straight on….Or put it back to drums and sell the 'C' brakes? The possibilities are endless…
It would be really easy to just paint it back to graphite metallic as there is no rust to deal with.
Again… just turn the key and go!
Here is a YouTube film will quickly made of the car once it was finished…
https://www.youtube.com/watch?v=MZ1AKKwDwQQ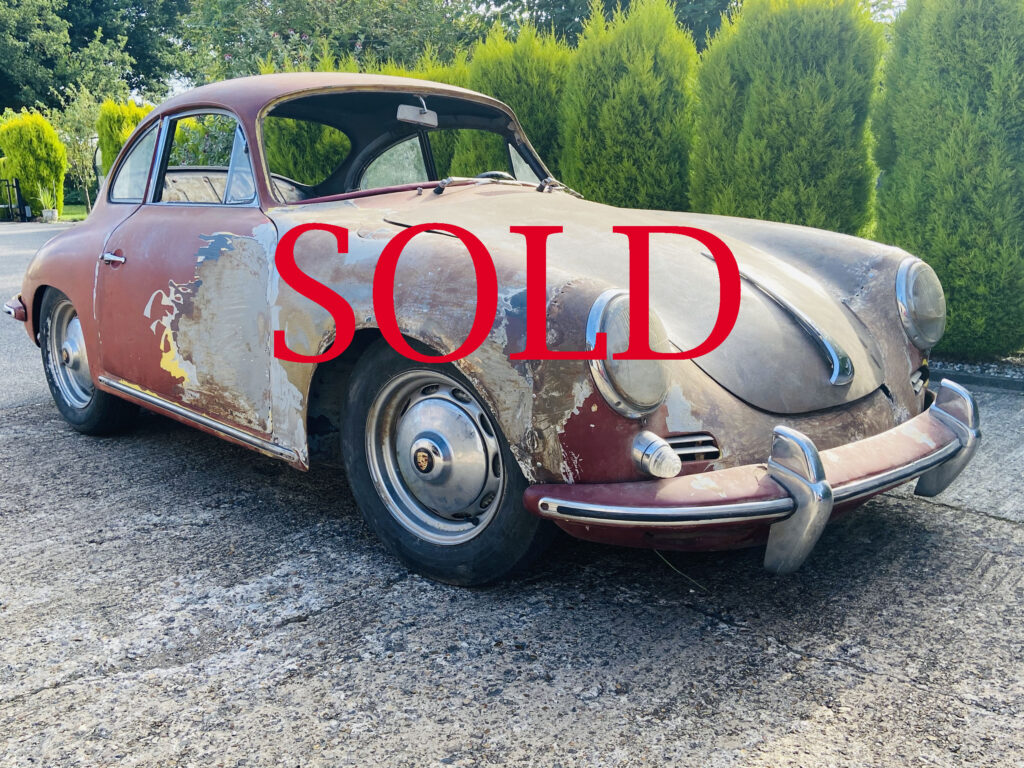 1962 (1963 Model year) Porsche 356 T6 'B' Coupe
Porsche Factory cardex shows that this car was completed 16th Aug 1962
Delivery date is 25th April 1964. This could be a typo? Or this car hung around the factory for years?
Original supplied with an 'S' engine.
The car is now fitted with an upgraded, very sweet running Super 90 engine.
Sold from Porsche Car import, Northbrook to original owner Jack Crass of Minneapolis.
Jack ordered the car in what is now known as one of the best colour combinations for a 356 of Slate Grey with Red interior.
There is a US Title in the name of P.N. Erdmann dated 1981 for the State of Washington.
It safe to presume that Mr or Mrs Erdmann owned the car from 1981 until the date it was exported to the UK?
Tax and duty was paid in the Uk 20th July 2011
The car was quickly sold afterwards to a new owner in Paris where it sat for many years.
The current owner purchased the car in December 2019 and had ideas of restoration but plans have changed and the car is now available.
The car is currently at our workshop in the UK.
We have an old style customs form C&E 389 showing all Tax and duties are paid for the car in the UK
There is also a set of keys and the US Title.
On examination the car requires all the normal 356 repairs..Floors, longs, rockers, closing panels, battery floor, beam reinforcers etc.
Some of the outer panels have been quickly attached to ease transportation.
The car does really benefit from not being restored before, so although the work required is quite extensive, you are not wasting time undoing other people's poor repairs.
Mechanically although the car starts and drives it also requires everything going through
We gave the engine a thorough service to see if it would run, jury rigged a battery and fuel can and it fired up instantly and sounds really sweet!….Unfortunately we can't test any other parts of the car as the brakes are disconnected.
The car looks very much complete and although there is no rear screen in the photos, this is with the car. The front screen is missing
I haven't been through the whole car to see what is missing but there are a few boxes of parts with the car also. The interior is all there and will need a complete re-trim. Head-liner is missing. It's also safe to assume that you will need to replace every rubber on the car.
As always it's best to come and look at the car yourself and this is very much encouraged. I take as many pictures as you like but coming and looking is always best.
We are pleased to offer for sale this Porsche 356 T5 'B' Coupe in RHD.
Chassis number 115642 started life in the hands of Henri P LeRoux and was purchased new through South African dealer Lindsay Saker Motors of Johannesburg.
The car was originally ivory with black interior and was completed at the Porsche factory Stuttgart on 20th March 1961 and delivered to Lindsay Saker Motors 29th May 1961. The only option specified were Dunlop tyres.
Not much known about the car in South Africa but this 356 turned up in Germany in 2001 and was owned by a Dr who used it every day. Whilst in Germany the car was maintained by Alois Rug of reowned Porsche specialist RUF Motorsport.
RUF sold the car in 2007 to another marque specialist Kevin Mofett of Historika based in Ipswich. Kevin had planned to race the car but obviously things changed and the car was sold to its current owner in 2008. The car was registered and then embarked the normal recommission work carried out by Export56 and to everyone's credit the owner expresses that the car had never let him down and makes frequent long haul trips around the country.
The car currently is set up as a GT/mild outlaw. There are no modifications that cannot be reversed, so it is the next owners choice as to drive the car as it is or return it to standard specification. The original normal engine is long gone and currently the car is fitted with a more powerful 912 unit. It also has a nardi steering wheel and sports seats. The wheels are also slightly wider than original and with bumpers removed and the bonnet straps the GT look is completed.
Please remember how rare a RHD 356 is! This car is ideal for someone who wants to just jump in and eat some miles on the road.
It isn't perfect and this is reflected in the price… Drive as is or change things around to your taste?
£65,500 ono
1958 Porsche 356 T2 Coupe, RHD, Silver with Red interior.
Built 3rd March 1958.
Chassis number 103041.
Engine: 69000 (current engine is a replacement case).
Gearbox: 18760 (currently fitted with 10575).
Delivered to Lindsay Saker Motors (Johannesburg) 11th March 1958.
First owner: Hughes – Maister & Drysell (Dental Surgeons).
Options: RHD and USA Bumpers
Imported into the UK in 1988 by 356 Collector Aziz Abouseda this rare RHD car has had a subsequent further six owners.
There are two huge history files along with a photographic restoration and copies of all the old log books, tax disc and piles of receipts.
The car today is in beautiful condition with only a few minor blemishes that would be expected for a car that has been driven and used as it should.
£135,000 ono
1959 Porsche 356 'A'  T2
Chassis number: 106754
A sensitively restored example of what is often regarded as the most attractive form of the 356 model manufactured in Zuffenhausen.
Set up well and running superbly, the car is now finished in Steingrau (Grey / green) paint, a Porsche special order colour of the period.
716 XUY was taken to The Laon Historique in northern France, where it was runner up in the Concours D'Elegance.
The car was invited to be displayed on the circuit grid at Goodwood in August 2019, where in an online public vote, the car was voted second favourite from the entire meeting.
There is a Porsche Certificate of Authenticity in the papers, confirming that the car was originally manufactured in Porsche exterior paint colour 5702 / Ruby Red and came with sealed beam headlights, USA bumpers, Dunlop tires and Boge shock absorbers as optional equipment. Engine number was 73194 616/1 and transmission number 26349.
The car retains its original engine, while at some point while in America the transmission has been replaced.
The car was originally imported from Stuttgart to Houston Texas by then Porsche dealership Norman Scott Inc. of 1517 Austin Street, Houston 2 Texas. (A picture of the Norman Scott Porsche dealership is in the file).
The car was purchased by the current owner on 25th September 2009 and imported back to the UK on a container ship.
Initially on Texas 'white' plates, the car was MOT'd a registered in the UK at Boreham Wood Test Centre on 1st October 2010 with new age-related registration number of 716 XUY.
Restoration was given to marque specialist Bill Russell (Dakota Classics).
A comprehensive list of works was carried out during the restoration, all of which is itemised in the car's file. An abbreviated list of work is set out below.
New battery box.
New floor panels both sides.
New rocker covers, heater tubes and jacking points. New flapper boxes.
All associated metalwork to the above.
Rebuild braking system all round including master cylinders, all new brake lines and hoses. Relined brake pads.
New headlights, rear light backs and new shine-up rear number pate light.
Overhaul motor and transmission.
Strip / repair fuel petcock.
Check all electrics.
New Pirelli tyres on existing chrome 'Brazilian' wheels.
Full servicing plugs etc and carburettor overhaul.
New internal headlining.
New dashboard and cover.
New external radio aerial.
Rebuild engine and transmission.
Engine and transmission strip down, inspection and reassembly. New piston rings, valves, valve guides, push rods installed.
New lower door skins.
Rebuild doors including window frames.
Repair rear front wings.
Repair and lead top of front wings by scuttle.
Replace inner rear wings.
Repair and make good various holes and imperfections.
Repair bonnet hinges.
Replacement dynamo / generator.
Replace inner front wheel arches.
Remove / refurbish / repaint fuel tank.
Repair front and rear bumpers.
Repair front seat frames.
Reupholster seats using full new cover kit from Mercantile
International.
New door linings and rear internal quarter linings.
Sound deadening kit on floor panels and fire wall.
New Porsche square weave carpet kit.
Install new pattern radio speaker units and wire up to Motorola radio unit.
New rubber seals all round.
Rechroming (by London Chroming) as required.
Fit GT Werks mirror.
Fit Sebring exhaust.
Colour-coded racing mirror by GT Werks.
Three-spoke Derrington steering wheel.
Stainless steel Sebring exhaust by Karman Konnection.
£145,000 ono
1964 Porsche 356 SC RHD Coupe
Matching numbers and fantastically original example of a UK Delivered Car.
Chassis 129 779 was completed by Porsche on 15th May 1964 in Signal red with black interior.
Ordered in RHD by UK importers AFN who took delivery 29th June 1964.
AFN records show that 129 779 was sold as an SC and the dealer changed its 75BHP engine for the more powerful 95BHP unit.
This was common place at AFN due to customers changing their minds and the huge lead time for new cars to arrive.
A copy of the Porsche certificate of Authenticity and AFN Cardex are available with the car.
The AFN records also show the car to still retain its original registration number.
Date:- 9th Feb 1965
First owner = D.C.Alderson
Rochdale Caravan Services LTD
1050 Manchester Road
Castleton
Lancs
Date:- 1969
Second owner = Mrs Pat Snell
Hither Green Lane
Redditch
Worcs
Date:- 30th March 2010 (40 years later !!!)
Third owner = Daniel W Findlay
Summer Hays Farm
Cotlegh
Honiton
Devon
Date:- 6th Sept 2015
Present owner = Nicholas Evans
2 The Terrace
Old Ford Road
London
The car itself remains a very original example probably due to being in single ownership for over 40 years.
There is a note in the file that the car was laid up in storage for 23 of these years.
It seems that very little work was needed to make the car look it's best and therefor the car has not been heavily interfered with or required any major surgery, it remains very close to 'just as Porsche built it !!'
Late 356 'C's are by far the best driving of all 356's and to find an example ordered as an 'SC' and in RHD remains one of the rarest of finds.
To give an example of how good these late 356's are, we have recently just given the car a very minimal service and the current owner drove the car on holiday to Italy and back with zero issues….356 quality and driving experience at its best.
£115,000 ono
1954 A133 Porsche Tractor - 3 Cylinder
1954 A133 (3 cylinder)
Chassis: 133-1835
Allgaier / Porsche
Absolutely stunning restoration carried out a few years ago.
The rear wheels need painting and there are a few chips for use but we can sort all this out included in the price.
Starts on the button, new everything.
Has a huge history file and drivers hand-book (in Danish).
As Seen on TV!.. Car SOS series 12.
UK Registered for road use with V5c Logbook.
Reg number: 958XVH
£16,500 ono
1953 A122 Porsche Tractor - 2 Cylinder
1953 A122 (2 cylinder) Tractor
Chassis number 013!
Still has original dealer plaque.
Not running at the moment due to the starter-motor needing a rebuild.
100% complete.
New tyres.
On the NOVA system with all taxes paid into the UK.
The V5C has been applied for so should have a registration number soon.
Drive to work? Or the Pub?…It's your choice?
£6,000
1954 A122 Porsche Tractor - 2 Cylinder
1954 A122 (2 cylinder) Tractor
Chassis 122-2032
Allgaier / Porsche
After the second world war Germany was not allowed to start new companies producing machinery.
Dr Porsche had a strong design for tractor units but needed to use an existing German company in order to make his design (hence Allgaier).
They are all true Porsche tractors and are badged 'system Porsche'.
Runs and drives.
French registration.
On NOVA, so can be registered for road use.
£6500 
1962 219 Porsche Tractor - 2 Cylinder
1962 219 (most powerful of the 2 cylinder).
Looks can be deceiving as this old girl hasn't really had a hard life…
It starts first time every time and even the rev counter works.
4K hours only on the clock which judging by how everything goes and works as it should this seems to be genuine?
Just a shame that it has never been put under cover for any time in its life.
With that said these tractors are easy to cosmetically restore
Came from Denmark.
Perfect running tractor.
£6,000